Overview

Nyjejualin or the native word, Ŋyjichɯn, uses an alphabetic writing system with two forms, a formal one and an informal one. The formal writing is somewhat featural, with sounds with the same manner of articulation having similar letters, based symbolically on the position of the tongue and teeth. Vowels are all arrows, with the rounded vowels marked.
Traditionally, records are written on the bark of the Sai tree, which is strong and flexible but with a distinct grain. The bark dries as a flexible but dark surface and ink is traditionally yellow or cream ('ŋafnɯŋ' on 'lyasim'). Informal writings were done usually with red ink on the leaves of the Sai tree, which dry lighter ('kiɯk' on 'lyasim').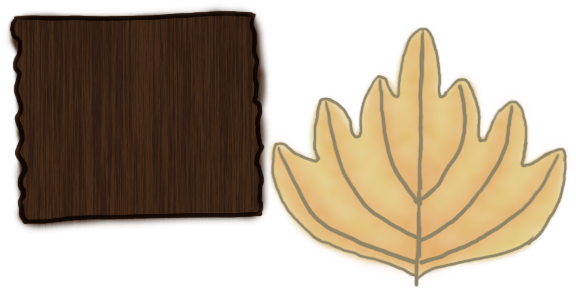 Formal use includes announcements, newspapers, records, legal documents, scripture, and most books (aside from those meant for learning readers, which may use a hybrid system), while informal use includes letters, albums, journals, many textbooks, popular music albums, and notes.
Unless otherwise stated, formal letters will be shown in a monospaced typeface, while informal letters will be hand written.
Alphabet
The choice of material influenced the writing's angular nature, as it had to be clear despite the skips caused by the bark's grain.
In the formal script, plurals and paucals are marked instead of having the spelling reflect the pronunciation. The noun case markers and verb agreement markers are abbreviated to a single consonant, which are placed in the inflection slot of the syllable they're attached to. In irregular and single syllable verbs this means that, despite being said first, they're written last.
Informal script has special letters for long vowels, while the formal style doubles the letters.
| | m | ŋ | n | ch | j | k | t |
| --- | --- | --- | --- | --- | --- | --- | --- |
| formal | | | | | | | |
| informal | | | | | | | |
| | f | v | β | r | w | l |
| --- | --- | --- | --- | --- | --- | --- |
| formal | | | | | | |
| informal | | | | | | |
z

- initial & medial

z

- word final

s

- initial & medial

s

- word final
formal
informal
y

ɯ

a

o

formal
informal
short
informal
long
i

u

ɒ

formal
informal
short
informal
long
| | no consonant |
| --- | --- |
| formal | |
| informal | |
paucal
plural
formal
only
Words
Nyjejualin is writing from left to write, from up to down. Words are written in blocks of syllables, illustrated below.
In hand-written or hand-lettered manuscripts, and more elaborately created digital documents, letters will fit together and extend into adjacent boxes, even flipping consonants upside-down, so each syllable and word is an elegant unit. (See examples below in 'Styles')
1st syllable
final syllable
next word
1st syllable
example
starting
consonant
starting
consonant
starting
consonant
ŋ
vowels
vowels
vowels
y
final
consonant &
(formal only)
inflection
final
consonant &
(formal only)
inflection
final
consonant &
(formal only)
inflection
r
In the case of a syllable that starts with a vowel, the initial consonant space is filled with the 'no consonant' ( ' ) symbol. Long vowels and diphthongs, as well as consonants with inflection symbols, are written as half-width, except in monospace fonts.
Examples
Singular: my'ak. Paucal: myokka. Plural: myykka
Formal: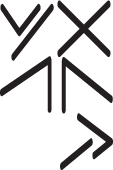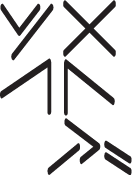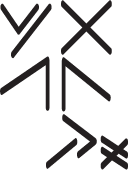 Sentence with inflection marks highlighted, formal writing: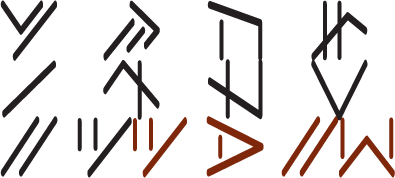 spoken

moŋ chunɯn βijy ŋazyvzɯ?

moŋ

chun-ɯn
βi-jy
ŋa-zyv-zɯ?
written

moŋ

chunn
βij
zɯŋv
gloss
your
cat-ACC
that-NOM
3sg.SBJ-3sg.POBJ-Question
Is that your cat?
Styles
The oldest records were inscribed into wood or stone, or engraved into the sai bark, and then usually highlighted with contrasting ink. This resulted in thin letters with little variation. Later scribes switched to a very stiff brush or reed pen, which allowed for more rapid writing as well as the correction of mistakes, if one was quick to sponge away the ink before it dried. For informal writing, on the sai leaves, a softer brush was used. These styles were known as 'South hand'.
'ŋafnɯŋ'

(left) and

'kiɯk'

(right) in formal and informal South hand. Formal shown on simulated sai bark.

| | | | | |
| --- | --- | --- | --- | --- |
| | | | | |
However, Western scribes were already artists with a tradition of decorating using wide nibs to create subtly curved geometric designs on pottery and woven wall hangings. They adapted this traditon to the new writing method, in what is called shadow hand, named for the varying thicknesses, similar to how a shadow changes through the day. They preferred bright white, yellow, or orange ink (colors called 'jasa').
'jasa'

in formal and informal shadow hand, both in typical colors

| | |
| --- | --- |
| | |
Northern writers created a new version of the informal style - 'thorn hand' - using a soft brush on parchment and ending strokes with sharp upward or rightward serifs. They often dyed the parchment 'jio' colors - rich browns, blues, purples, and greens - then used pale or metallic inks ('ŋafnɯŋ' or 'lyasim'). North hand is also typically written more narrowly. For the formal writing, they preferred the old method of inscribing sai bark and highlighting with white or metallic ink.
'lyasim'

in thorn hand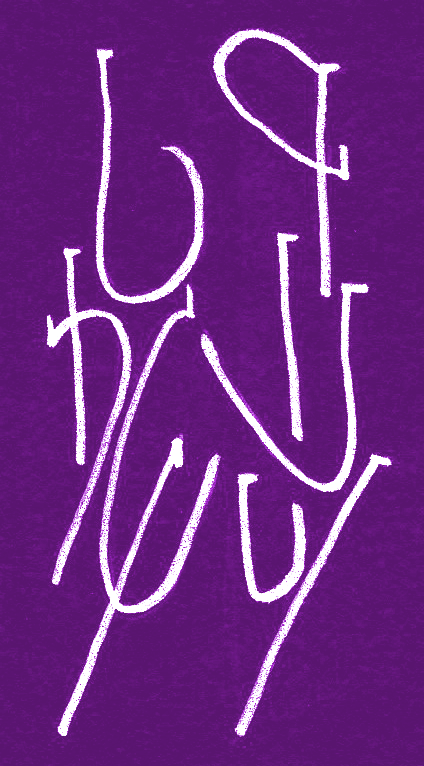 Later writers created a variety of script or cursive versions, of varying levels of legibility. Many of these were derided for being 'flighty', 'irreverent,' and 'disrepectful of the venerable art of writing'.
Technology standardized much. Nyjejualinaokwi typewriters and early computers used clever mechanisms: there was a two-phase 'shift' key to bump the paper up for each block. Words were either written phonetically, despite using the formal letters, (a system still used with books for learning readers) or had the inflection symbols underneath. Line-spacing was large enough to accomodate either method. Paper, imported from the South or made by border clans, was significantly longer than that used in Ylialisaokwi documents, and often still is.
Some of the more advanced machines, as modeled in this document, had a 'half-space' key to bump blocks over to keep together syllables with inflection symbols, long vowels, or diphthongs. There exist rare typewriters designed for personal correspondence that use the informal letters.