Overview

Endukaliso is the source of the Ovim runes (named after the first four letters), which were used for writing it and neighboring languages before the adoption of the Omlirt alphabet. They were generally carved into stone, bone, or horn. If carved into wood, the horizontal lines were often drawn on a slant. Some runes were also borrowed by several languages to represent sounds missing from the Omlirt alphabet.
Aside from being used to spell words, each letter also had multiple meanings, based on its origin, association, and symbolic meanings, used interchangeably in inscriptions. There are copious examples in museums, including signposts, monuments, everyday writings, and as decoration on jewelry, weapons, combs, and other items. Runes could be written in any direction, mirrored, or inverted, especially in charms, spells, and prayers.
Each rune has a traditional name, however in daughter languages the name may not start with the associated letter.
The order of the Ovim runes are known from a variety of rune poems, some collected by early linguist Karakkil. Rune poems are alphabetical listings of some or all of the runes with a stanza for each letter describing one or more meaning. These were used as mnemonic devices as well as being a poetic exercise. Modern depictions of the runes are generally based on Karakkil's record of the runes and their meanings, part of which is shown below.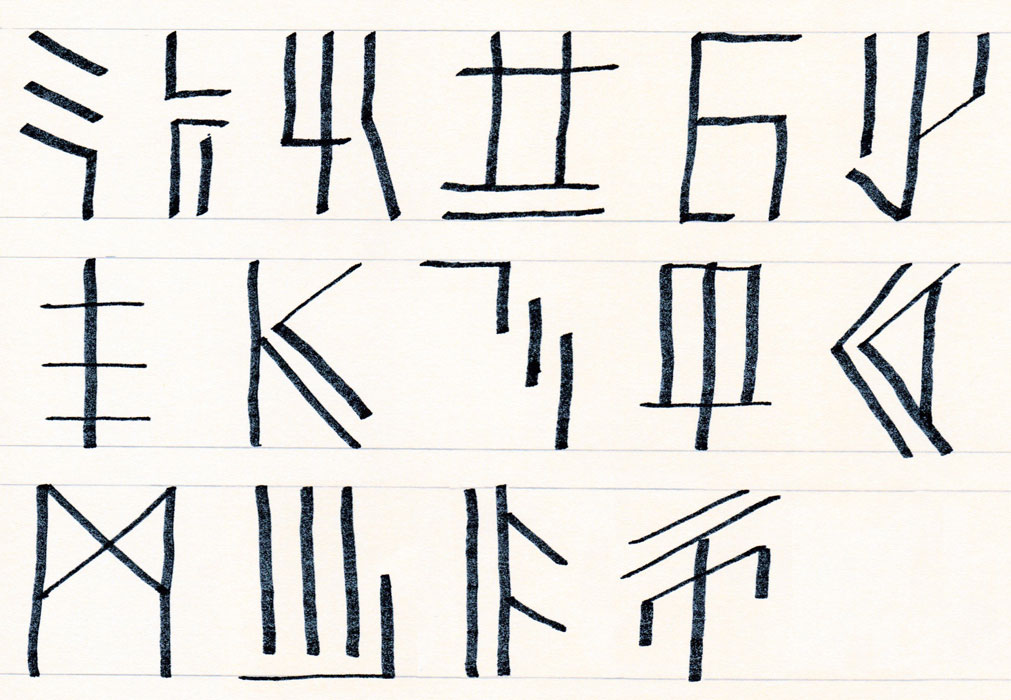 Ovim Runes
The vowel /a/ is considered the default and is not written unless long, in a diphthong, or starting or ending a word.
Meanings and sounds
transliteration

o

v

i

m

f

phonemes
o
v / ð
ɨ
m / n / ŋ
f / θ
name

vjivrw

/ˈvjɨːð.ɾu/
(person)

ikaha

/ɨ.ˈka.haː/
(river)

moriaddr

/nɔ.ˈrɨad.dɨ̥r/
(hall, home)

fwdis

/θu.ˈdɨs/
(chicken)

meaning

horse
journey
hunt, search
four
north

river, water
rain
hope
speed
east

hall, home
safety
center
today

bird, chicken
family
year
tomorrow

transliteration

r

w

d

s

a

phonemes
ɾ / r
w / u
d
s / ts / z
a
name

rikaddvof

/ˈrɨː.kaːd.ðɔθ//
(fire)

whsaivroʀ

/uh.ˈsaɨːð.ɾɔʀ/
(boat)

savis

/ˈtsaː.vɨs/
(summer)

akksia

/ˈaːk.sɨa/
(spell)

meaning

fire
hearth
beacon
help
joy

shield, boat
protection
make, craft

heat, summer
season
success
past

sun
spell
god
story, write, tell

transliteration

k

b

j

ʀ

h

phonemes
k
b
j / i
ⱱ ʀ
h
name

kiavsa

/ˈkɨaːv.sa/
(food, meal)

bajbaharm

/ˈbai.ba.haːɾm/
(harvest)

ʀosaok

/ʀɔː.ˈsaɔk/
(tree, trunk)

hiriah

/hɨː.ˈɾɨah/
(hunger, need)

meaning

animal
food, meal
good, morality
hospitality

net, basket
plenty, bounty
harvest

night
sleep
hide
oath
future

tree, fruit
gift
strength

wolf
hunger, need
endurance
south